Installation Guides Office
HOW TO INSTALL MICROSOFT OFFICE
2016/2019/2021
On this page you will find detailed textual guidelines for the installation of Microsoft Office. If you prefer a video tutorial, click below.
MICROSOFT OFFICE INSTALLATION VIDEO
1. Uninstall previous Microsoft Office versions
2. Download your software from the provided link or from the Microsoft CDN server.
3. Open the downloaded file and install the program.
4. Once the setup finishes the installation:
5. Open an Office application, such as Word.
6. Read and accept the license agreement if you are asked to do so.
7. Activation can take place automatically. If Office does not automatically activate, do the following:
7.1. In the Activation Wizard, select 'I want to activate the software by telephone', and then select 'Next'. If nothing happens when you select 'Next', use the 'Enter' key on your keyboard.
* Note: If the Activation Wizard does not appear, create a new blank document, and then go to File > Account and select 'Activate license'.
7.2. In the Activation Wizard, select your country/region. Use the automated online Phone Activation Center of Microsoft through this  >> link.
7.3. Select whether your code consists of 6 or 7 digits and select the corresponding button.

After selecting the number of digits enter your phone activation ID (from the Activation Wizard).

7.4. After the verification you will be asked how many devices you want to install it on, select 0.
7.5. The Product Activation Center will provide a Confirmation ID that you enter in the Activation Wizard under Step 3.
7.6. Select 'Next' and follow the prompts to complete the activation process. If nothing happens when you select Next, use the 'Enter' key on your keyboard.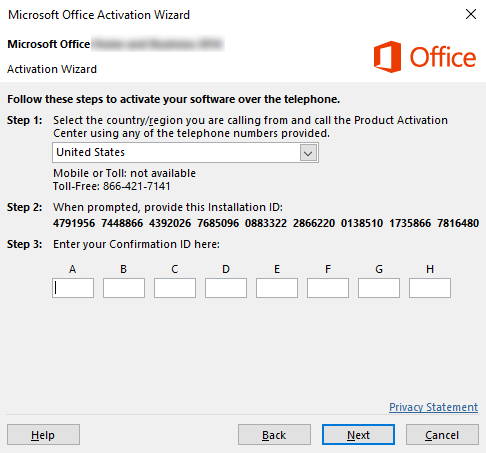 If your problem is not resolved here, you can contact us by mail: contact@mskeysshop.com, or via the chat on our website.